Dr. Monique Middleton- Director Sarah Lawrence College, Year Abroad Program- Paris,France
This seminar has been a unique opportunity to improve my technic and to correct persistent mistakes thanks to Karen's personal training that is the continuation of the year-round work. I could also learn more about the interpretation of arias I have been working on for some time now, through a closer look on the context and the characters. Karen's experience, knowhow and personality is very rich and is a great help to her students and she helps us to come into our own as singers to be. One could see a real improvement through this week and above all, in a very friendly atmosphere !
I trained with Karen back in 2001 in Paris for about eight months. I was at a stage in my career where I knew where I wanted to be be but needed the right guidance to allow me to acheive my goal.
I never had enough confidence in my voice but Karen managed to bring out the best out of me and give me the correct technique, confidence and inspiration I needed. This gave me self belief which urged me to follow my dream....musicals. With the knowledge and confidence I gained from Karen I could walk into a singing audition and hold my head high knowing that I was good enough to get the job, and here I am now, in one of the best shows around....'The Producers'.

Kelly Homewood - "The Producers", London, England
I have been working with Karen Acampora (Nimereala) for about the last eight mouths. Karen is one of the first people I have worked who has such an thrower understanding of what it means to be a singer, when I talk about singing I am not only talking about holding a tune or singing your way through a song, I am talking about the mind set, the technical ability and the physical requirements that make up a fully trained professional singing. During the time I have spent with Karen my voice has become a weapon. I am learning a strong technical base that I believe I will carry with me during my whole professional career.
Cameron Greentree - Moulin Rouge, Paris
Karen Acampora Nimereala is a very talented and imaginative teacher. She has a special contact with students;they enjoy and value considerably their classes with her and moreover they think of her as "the best voice teacher" they ever had and praise her personal, as well as professional qualities. She knows how to get the most out of students, give them the ease and confidence to discover their instrument and explore it to the best of their abilities. She is an extremely dedicated person, who has very high standards for herself and her students.
Mel Ona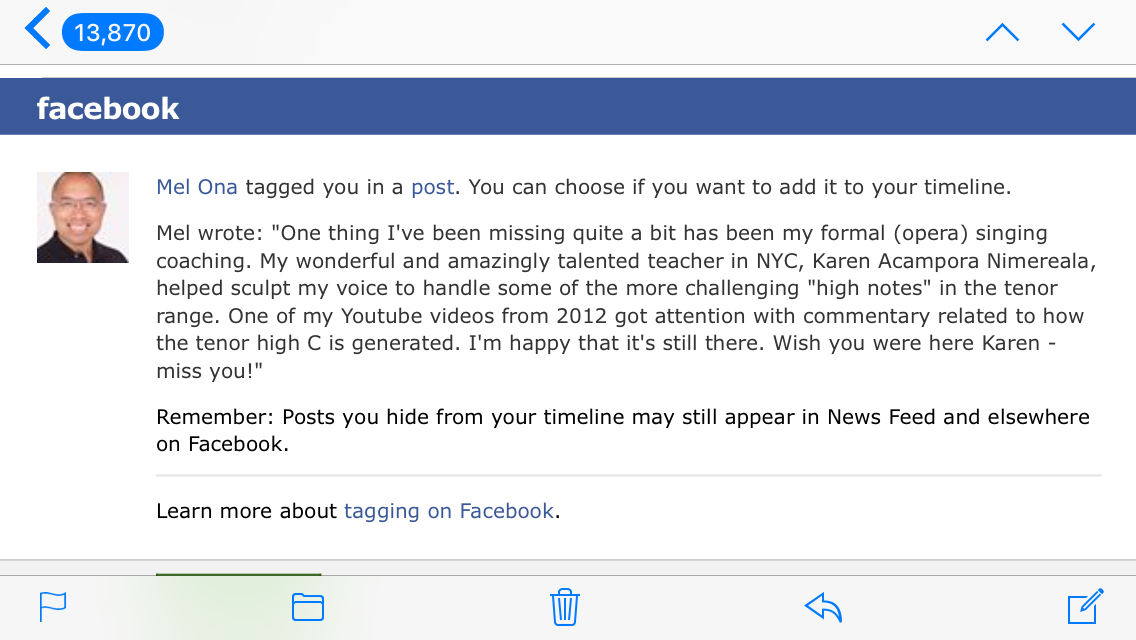 Elisabeth de Kermoysan

Singing with Karen is utterly the most inspiring experience in my entire musical life. She brings to her teaching the passion of her own music and teachers, plus an extensive background, and it is impossible to do anything but sing to your utmost ability, every single lesson. The improvement one experiences in one lesson is phenomenal, and at the end of a week, the voice is a whole new instrument, constantly evolving under Karen's careful guidance. Teachers who communicate such love and enthusiasm for their music, and for your music, are few and far between, and Karen is truly a jewel in the world of classical singing, and of music as a whole.
Meris Goodman
"The last six months I am taking lessons with Karen. I have been to several teachers before, but never have I met someone so devoted and so caring and above all - so interested in the students progress. Karen understood exactly the issues I deal with in my singing, she knew how to address them very efficiently. As a result, a few months since my first lesson, I have made great progress, I am well underway towards my goal. Karen has the knowledge and the expertise to get it through to the student. Thank you Karen for everything you've achieved untill now, you got yourself an ardent admirer and I look forward to our next lesson."
Jonathan Lewin-cantor
Karen is truly a rare teacher. She is the first teacher I have ever had whose first concern is making sure I understand how my voice works and why, because of this I have become better in hearing when I sing out of pitch or do not breath correctly and then being able to correct these mistakes. In my eight years of lessons I have never been so self aware of my instrument and I can only imagine that it will improve with the swift guidance of Karen. After a tough year in Paris my lessons with Karen were the one thing that helped reaffirm my confidence as a performer and returned that love that was once extinguished.